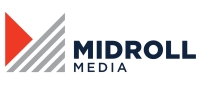 Midroll Media's podcast networks have shared their new show lineups. Earwolf, Stitcher, and Stitcher Premium are each expanding their programming.
Earwolf is adding two new podcasts. Unspooled examines the 100 best films of all time as chosen by the American Film Institute. Comedian Paul Scheer and film critic Amy Nicholson co-host the show, which premieres on May 17. Obscure is hosted by actor and comedian Michael Ian Black. He will read and comment on every line from the Thomas Hardy novel Jude the Obscure. It premieres on June 8.
Stitcher is adding a comic soap opera called Gossip. The scripted show includes author Allison Raskin, Amanda Perez, Beth Littleford, Likan Bowden, and Victoria Rowell in the cast. The premiere is June 14, with whole seaseon available that day on Stitcher Premium and regular listeners getting one episode a week.
Stitcher Premium is adding three shows. Threedom, from Scott Aukerman, Lauren Lapkus, and Paul F. Tompkins, is already available. John Levenstein's Retirement Party will have ten episodes available on May 9. Lost & Found, a show about adoption from Matt McConkey, will premiere on May 23.