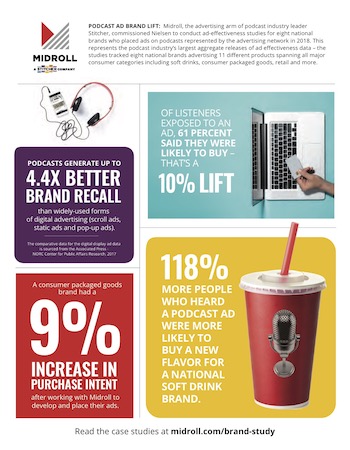 Midroll Media released a roundup of all eleven podcast ad effectiveness studies it commissioned from Nielsen during 2018. The studies demonstrated positive results for podcast advertising. The first top-line result is that the format generated up to 4.4 times better brand recall than display advertisements. Second, listeners exposed to podcast ads also reported an average 10% lift in purchase intent; 61% who heard the ad said they were likely to buy compared with 56% of those who did not hear an ad.
Midroll also shared statistics for specific product categories of podcast advertising. Purchase intent rose 9% for a national consumer packaged good brand after the company worked with Midroll on developing and placing podcast ads. The same product also saw a 43% greater recall with a longer, customized version of the advertisement compared with a shorter, more conventional spot. A national soft drink brand found that 118% more people who heard a host-read ad said they were more likely to buy the particular flavor highlighted in the podcast advertisement.
"This shift underscores the power of podcasts to speak to a generation of consumers who tend to be hard to reach through other digital media platforms," said Korri Kolesa, chief revenue officer for Stitcher. "This, coupled with what we know about messaging, allows Midroll to partner with brands to develop a highly resonant message and in turn, to work with the host to ensure it is well-integrated to reach its target audience."
In September, Midroll Media presented a webinar, co-produced and hosted by RAIN, covering the topic of podcast advertising effectiveness based on Nielsen brand lift studies. Read more about that presentation and other study results here.