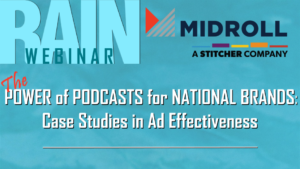 In a webinar co-produced and hosted by RAIN, Midroll executives noted that 50% of Midroll's podcast revenue is now attributed to national brand advertising. That figure represents a moment of balance indicating that brand advertisers (as opposed to direct response advertising by web services and merchants) are increasingly recognizing podcasts as important marketing venues.
That point was the central theme of the webinar, titled The Power of Podcasts for National  Brands: Case Studies in Ad Effectiveness. Moderated by RAIN President Brad Hill, the speaking panel included Midroll SVP of Sales and Partnerships Korri Kolesa, Director of Marketing and Insights Paul Riismandel, and Chris Peck, VP, Client Consulting, Nielsen.
"Direct Response advertising has had great success in paving the way," Kolesa noted. she said the 50% balance of DR and brand advertising "speaks volumes about the impact of the medium. Brand business is new business to the space."
The webinar disclosed results from brand lift studies fielded by Nielsen — brand lift being a term for how much a brand name is recalled, some time after it is heard in a podcast. Chris Peck explained his company's careful methodology, in which 800 respondents are "screened into the survey" with a series of qualifying questions. Participants hear a portion of a podcast; half the group receives a clip with a brand sponsor message in it. Both groups are queried later about their recall. All the brands participating in the test were well-recognized, household-name brands.
Webinar slides dove into particulars of the results, which unsurprisingly were favorable to podcasting's ability to generate brand recall and information. A mid-roll spot generated 50% unaided recall on average, according to Paul Riismandel. Podcast ads performaed 4.5 times better in recall than ads in other formats, in unaided recall.
Midroll is a determined host-read company — the company does not produce standard radio-style spots. "We don't want to be radio," Kolesa said. Interestingly, Rissmandel played one host-read advertisement while displaying the formal ad copy; webinar attendees could see how the host (Dan Pashman) departed from, and riffed on, the original talking points. "This is the kind of read that helps listeners remember these brand statements," Riismandel noted.
A highly engaged webinar audience extended the 60-minute planned session with a vigorous Q&A session. The webinar recording can be streamed HERE.