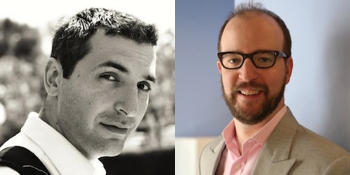 Podcasting network Midroll Media announced two promotions among its leadership. Erik Diehn has been upped from VP of Business Development to CEO. Diehn's promotion fills the top executive spot after Adam Sachs announced his resignation in June. Additionally, Lex Friedman has been promoted to CRO after serving as EVP of sales and development.
"Erik and Lex are a powerful partnership to lead the Midroll team forward on an aggressive path as we build out a complete podcasting ecosystem," said Midroll parent company Scripps' Chief Digital Officer Adam Symson. "Erik has a proven track record of being a strategic leader with the vision to accelerate the company even faster, while Lex is certainly the industry's most accomplished revenue innovator."
Midroll Media was acquired by Scripps last summer, in a high-profile injection of institutional investment in podcasting. In June, Scripps augmented its investment in an unexpected acquisition of podcast listening app Stitcher from Paris-based global music service Deezer. Deezer had acquired Stitcher in a play to introduce spoken-word content to its music catalog. Within Scripps, Stitcher was bundled with Midroll Media, with all Stitcher employees reporting up to Midroll execs. At that time, Adam Sachs' departure from the CEO role was announced.
The advertising side of Midroll's business, led by Lex Friedman is widely regarded as having evangelized and scaled the Direct Response ad category within podcasting, now leveraged by many top shows across various networks.