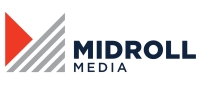 Midroll Media announced the addition of seven new podcasts to its Earwolf comedy network. The new programming covers a wide breadth of styles and formats. The announcement also serves to mark the 500th episode of Comedy Bang! Bang!, the network's flagship podcast hosted by comedian Scott Aukerman.
Off Book: Premieres July 25 and airs weekly. The show is an improvised musical podcast, hosted by Jessica McKenna and Zach Reino. A guest will join each week to create an original musical, and will even perform improvised musical ad reads.
Homophilia: Premieres Aug. 11 and airs weekly. Former NTV host Dave Holmes and comedian Matt McConkey bring on a celebrity guest for a chat about pop culture and love lives.
Chickenman: Episodes are available starting Aug. 2. Earwolf will be the new home for episodes of the 1960s radio show. Twenty episodes of the comedic superhero show are joining podcast networks for the first time. The rest of the episodes are available via Stitcher Premium.
The roster also includes two new shows from Cracked, a movie show that debuted on July 13 and Cracked Gets Personal premiering Aug. 16. Scripps, which owns Midroll Media, acquired comedy brand Cracked in April 2016 for $39 million. Cracked's founder has also moved into audio programming, joining the team at HowStuffWorks earlier this year.
The final summer show additions for Midroll are called Throwing Shade and James Bonding.