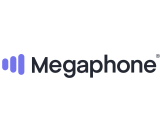 ESPN podcasts are moving to enterprise podcast tech company Megaphone for hosting and monetization via dynamic ad insertion.
ESPN is a high-profile addition for Megaphone. Ranked as #11 in the May edition of Podtrac's Top Podcast Publishers list, ESPN produces a slate of 69 active shows that were streamed or downloaded over 45-million times in May. ESPN claims 425-million downloads in 2019, and averages six-million listeners a month. (Podtrac counted 5.1-million listeners in May.)
Megaphone's press release for this big "get" is absent of the usual congratulatory and "We are thrilled" quotes from executives in both companies. The skeletal announcement might be paraphrased as, "ESPN. Huge. We got 'em."
Megaphone builds its enterprise business on large-scale hosting, ad-insertion technology, and granular targeting of ads to listeners. The company's headline product is Megaphone Targeted Marketplace (MTM), which claims "unprecedented listener reach, true measurement, efficient execution, and guaranteed brand safety." The company also offers creative work to advertisers which promises "breakthrough audio ads that envelop the user."
ESPN has  been in the podcast game since 2005.