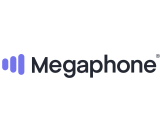 Podcast hosting, analytics, and monetization platform Megaphone (a division of Spotify) has launched its service in France, Germany, Italy and Spain. This expansion broadens the compay's monetization while offering podcast creators in those regions access to Megaphone's tech stack. Podcasts on Megaphone retain full control over their direct sales.
"Podcasts have taken Europe by storm," Megaphone trumpets, citing a metrics that 20 to 30 percent of the population in the four trget countries listens to podcasts. That makes the publisher market more competitive, of course, and Megaphone is marketing its bundle as "an all-in-one podcasting platform for publishing, analytics, and monetization." The company is promoting this expansion with an offering of "white-glove service," which involves consulting. Sales and support teams will be recruited in the new regions.
Pascal Hughes, Founder and CEO of Noiser, a UK-based podcast production network and current Megaphone client, said, "The Megaphone platform has provided us with a robust set of podcasting capabilities that are powerful, sophisticated, and intuitive. With the help of these tools, we have been able to scale our content, grow our audience, and increase revenue across our entire portfolio of shows in a way that we weren't able to do with other podcasting platforms."
Megaphone launched in 2015, as the tech and hosting division of Panoply, which was then the podcast division of Slate. Panoply became Megaphone in 2019. Spotify acquired it in November of last year.
.