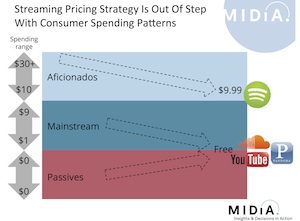 Mark Mulligan of MIDiA Research wrote a blog post with his insights about the current pricing issues for streaming music. He highlighted the apparent either/or choice facing listeners – pick a totally free platform or pay $9.99 a month for a subscription – as a problem the music industry needs to solve.
According to his assessment, the $9.99 price tag is much lower than what music aficionados would pay on tunes each month, so it isn't taking full advantage of that group's spending power. On the other hand, more casual, mainstream listeners gravitate toward infrequent purchases and are unwilling to make the regular commitment to $9.99, thus wind up in the free bracket. "The leap from zero to $9.99 is simply too big," he explained.
Mulligan offered three options for a better streaming pricing environment. First, he suggested adding more tiers to the binary paid or free choice, such as cheaper tiers for $3 or $5 a month that would appeal to casual listeners. Second, he recommended making the standard paid tier cost a more manageable $7.99 a month, while adding a $12.99 tier for the superfans. Finally, he mentioned the pay-as-you-go option as a path to hooking those listeners uncertain about committing to a regular subscription.
Especially with popular performers speaking out against streaming services and the recent backlash against U2's free iTunes album, the value of music is under intense scrutiny these days. The RIAA's data from the first half of 2014 found that streaming platforms were able to partially offset the declines in digital music downloads, but the figures still revealed an overall drop from the previous year. If more listeners can be converted to new pricing tiers, then that gap from lost album sales could start to close more decisively, which would help prove the financial viability and stability of streaming music.