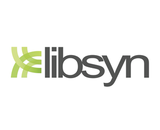 Venerable podcast hosting and advertising company Libsyn has launched Libsyn Studio Beta, an early version of a cloud based A-to-Z production suite. It is an outgrowth of Auxbus, which Libsyn acquired a year ago.
In doing so, the competitive thrust seems to be toward Spotify-owned Anchor. According to company materials, Libsyn hosts over 75,000 podcasts, so it might seem that a sizable addressable market is built in for the new Studio product. But Libsyn acknowledges that Libsyn Studio is really for beginners who have never produced a show. So, not so much about bringing existing host customers into a new service; more about attracting new podcasters who will also become hosting clients. And Auxbus will be the hosting solution for new Libsyn Studio creators.
"Watch how quick and easy it is to create a podcast," the promo material commands. A video demo is not shareable, but can be seen here.
The workflow includes a scripting and content planning component. It helps break down the show into common parts — intro, outro, chapters, etc.. Those elements can be produced separately, then assembled automatically. Distribution is included too. The idea seems to be about providing conceptual assistance in addition to technical tools.
.