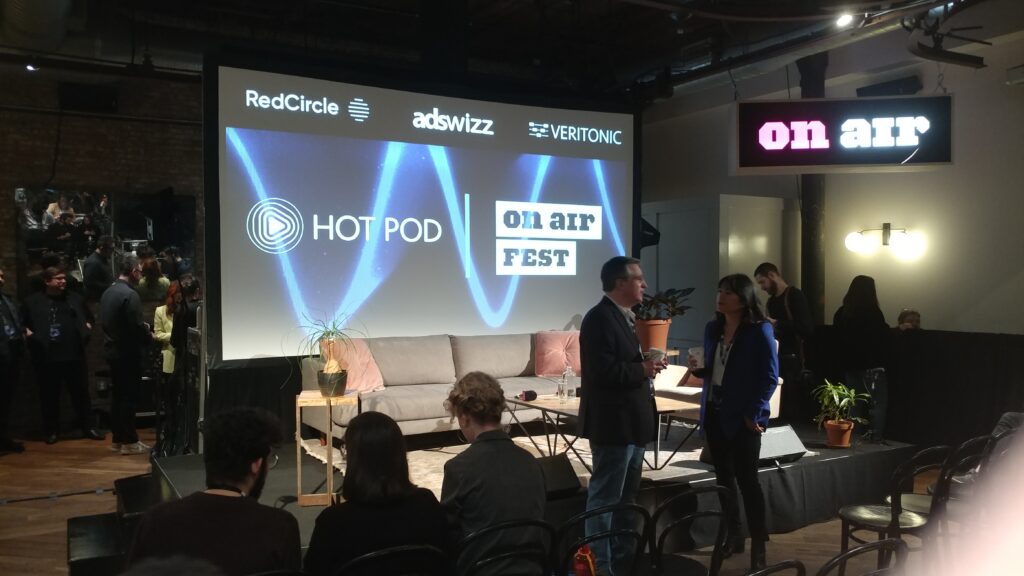 RAIN News attended the Hot Pod Summit at the Wythe Hotel in Brooklyn yesterday, a Covid-vaccinated gathering which, to some attendees we spoke to, signaled a hopeful return to in-person business gatherings.
In a charming urban-rustic setting at the Wythe, an estimated 200 attendees mostly represented the creative community of podcasting. At the same time we saw many industry pros from the network and technology sides. Hot Pod Summit is an invitation event that precedes Air Fest, an annual two-day podcaster conference (also at the Wythe).
Hot Pod, a podcast industry newsletter, was founded by Nick Quah, and recently acquired by The Verge, which is part of Vox Media. The Hot Pod newsletter is now managed by Ashley Carman, who MC'd the event and moderated much of the stage conversation. We learned just after posting that Ashley Carman has resigned from Hot Pod and The Verge, and has taken a position at Bloomberg. A new editor of Hot Pod has not been announced.
The day-long event (10am to 5pm) featured five meaty panel discussions. Key topics included:
Grappling with YouTube as a distribution and monetization platform (panelists were Waveform: The MKBHD Podcast host Marques Brownlee and Rooster Teeth's head of The Roost Podcast Network AJ Feliciano)
The industry's adoption of programmatic advertising (with Oxford Road CEO and founder Dan Granger and Acast Head of Automation for the Americas Elli Dimitroulakos)
"New money in audio," mainly about subscriptions, with some conversation about audiobooks (Pushkin Industries CMO Heather Fain, QCODE CEO Rob Herting, and Tenderfoot TV co-founder Donald Albright)
Competing with "Big Tech," which was mainly about how indie podcast enterprises can recruit and retain staff when giant companies are also recruiting (LWC Studios founder and CEO Juleyka Lantigua, Multitude CEO Amanda McLoughlin, and PRX CEO Kerri Hoffman)
Independent creators making it work — conversations about how to leverage Patreon, Discord, and other direct-to-fan platforms (Celebrity Book Club co-host Lily Marotta and Who? Weekly's Lindsey Weber)
An interactive town hall closed the event programming; anyone could participate.
.