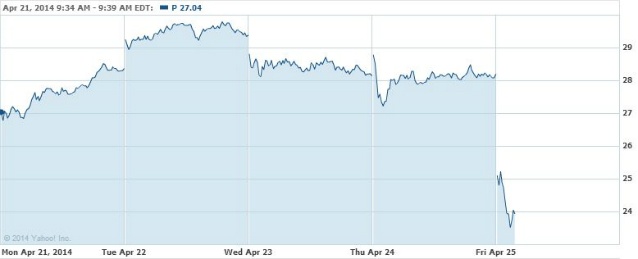 HEADLINE: Pandora met Wall street expectations in Q1, and grew key usage and revenue metrics.
HEADLINE: Pandora stock (P) is savagely down 15% as of this writing.
Why? The answer might lie in the company's future guidance: Earnings per share (EPS) for Q2 between $0.00 and $0.03. (EPS for the Q1 reported yesterday was $0.02.) You have to satisfy Wall Street for the past and the future in these earnings calls.
CEO Brian McAndrews had an answer to an investor's question about why projected Q2 earnings isn't as optimistic as the Q1-Q2 comparison in 2013: " The real difference is that Q2 last year is a tougher comp frankly. I mean, last year we made a lot of investments in Q1, we rolled out integrations in the Mediaocean and STRATA, hired a bunch of salespeople and started to see the beginnings of that in Q2."
"Despite typical Q1 seasonal advertising headwind, these strong financial results were driven by increasing user engagement, rising listening hours and our continued focus on improving monetization." –Brian McAndrews, CEO, Pandora
During his introductory remarks, McAndrews touted year-over-year engagement growth. "Active users increased 8% year-over-year from 69.5 million to 75.3 million in the first quarter of 2014. And our listeners are strongly engaged as listener hours grew faster at 12% increasing from 4.26 billion in Q1 2013 to 4.8 billion in Q1 2014."
As RAIN noted in yesterday's preview, RPM (revenue per thousand listening hours) is a key indicator of Pandora's money-making efficiency. The news there is that overall RPM was $37.55 for Q1, up 37% year-over-year from $27.41. Breaking out mobile RPM, the growth rate was 44% ($29.46 for Q1 2014.)
McAndrews touched on cost-of-content issues — royalties to music companies, in other words, as covered extensively in RAIN. He observed the favorable verdict in the ASCAP royalty-setting trial, and mentioned the recently-brought lawsuit by record labels seeking compensation for pre-1972 recordings, which are not covered by the U.S. Copyright Act. (RAIN coverage here.) Interestingly, McAndrews noted that pre-1972 music represented 5% of Pandora spins.
How about international expansion? McAndrews' answer was positive but vague, as in the past: "It's certainly something that we are long-term interested in exploring and investing inappropriately. I would say right now we think there is a lot of low-hanging fruit and a huge opportunity in the U.S. […] So I would say there is no specific timeline, no specific goals at this point. We're really focused on building what we have in the U.S."
CFO Mike Herring said that Pandora now employs 328 "feet on the street" (salespeople), 100 of whom work in local sales offices in 37 markets.
Herring's conclusion: "In summary, our growth strategies are working and we're executing well across our strategic initiatives.I