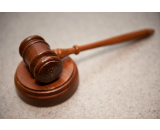 Judge Philip Gutierrez has chosen not to add the latest pre-1972 royalty lawsuit to his docket. ABS Entertainment filed a suit against CBS, Cumulus, and iHeartMedia in an effort to collect royalties for those radio groups' use of songs recorded prior to the adoption of federal copyright law. The plaintiff tried to have the case transferred to Gutierrez since it focused on potential infringement under the same statute as the suit filed by Flo & Eddie against Sirius XM.
"Lawsuits that are related because they assert violations of the same statute are not sufficiently related to justify transfer," Gutierrez wrote.
Gutierrez has mostly made court decisions in favor of Flo & Eddie in the duo's legal case against Sirius XM. It's possible that ABS was trying to gain an extra edge in pursuing royalty collection from over-the-air radio outfits.