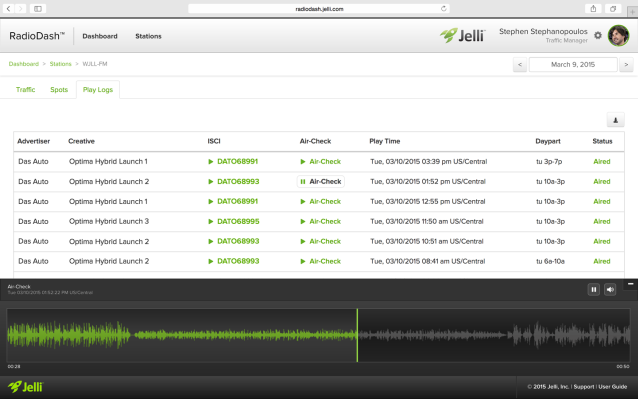 Jelli, the cloud-based programmatic ad service for broadcasters, announced a new version of its RadioDash platform, providing a campaign data dashboard to radio station clients.
Previously, RadioDash provided real-time campaign insights to buyers. The upgraded 3.0 version completes the circle by furnishing analytics for publishers on the sell side. The idea is to give station managers real-time data about live campaigns, ad plays, performance metrics, and compliance.
"It makes radio feel and act more like digital," Jelli CEO Mike Dougherty told RAIN News in a phone call. "Previous versions were primarily a buyer-facing tool that allowed for advertisers to see in real-time ad data of campaigns running on radio stations around the country. We revised the UI to access real-time data relevant to broadcasters who are running the programmatic ads."
On the publishing side, radio traffic managers can use the same data presented to advertisers and agencies, in different ways. "With today's release we are extending the power of that web-based dashboard to the publisher side of the equation," Dougherty said, "who use the same data for different reasons — mainly, understanding that the ads are running properly, ensuring that they get the right compliance, increase reveneue, even check that the ad ran."
One special feature in the new RadioDash version is listening to scheduled commercials. The software zooms in on the ad, including a few seconds of programming before and after, like a traditional radio aircheck.
Mike Dougherty told RAIN that the new dashboard will be helpful to traffic managers who ensure that programmatic ads are properly set up. "Radio has entered into the Age of Programmatic advertising," he noted. "With RadioDash 3.0, publishers can now access the same powerful tools and analytics at their fingertips as programmatic advertisers."
The new RadioDash product is available free to Jelli clients.