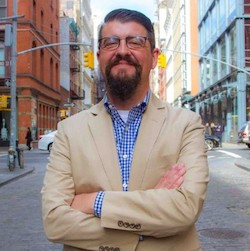 Jason Hoch has departed Stuff Media, and its new parent company iHeartMedia. He was the head of new initiatives and EP at the HowStuffWorks podcast network. Hoch is leaving to join Imperative Entertainment and head up the studio's newly created podcast division. His new post as president of podcasts will involve leading a studio to create and produce shows around new ideas and third-party IP.
"As the podcast industry continues to explode, the audience is hungry for amazing, intimate stories to personally connect with," Hoch said. "Imperative's slate of feature and TV projects offers an incredible array of character-driven stories that are both deeply human and emotionally raw. I'm excited to work with the Imperative team to build a podcast slate of the same caliber and provide a platform to entertain and connect with fans across multiple forms of media."
This is the second major departure since iHeartMedia acquired Stuff Media and folded HowStuffWorks under its umbrella. Chris Peterson exited his role as executive vice president of iHeartMedia to join LionTree's Kindred Media.