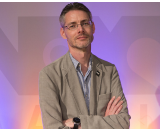 James Cridland, radio futurologist, is a conference speaker, writer and consultant. He runs the media information website media.info and helps organise the yearly Next Radio conference. He also publishes podnews.net, a daily briefing on podcasting and on-demand, and writes a weekly international radio trends newsletter, at james.crid.land.
---
I was in Paris last week for the European Radio Show, and very excellent it was. One thing to catch my eye was the above – that's a radio studio built for people who aren't radio presenters. Big buttons to turn on microphones and play music, and no faders – the system automatically ducking music when someone speaks, and handling all the fades and network links for you. Interesting idea – built for community radio.
Classifieds: Decent radio is more than just show and go. Here's a £1 week-long trial of Show Prep that'll supercharge any radio show.