James Cridland, radio futurologist, is a conference speaker, writer and consultant. He runs the media information website media.info and helps organise the yearly Next Radio conference. He also publishes podnews.net, a daily briefing on podcasting and on-demand, and writes a weekly international radio trends newsletter, at james.crid.land.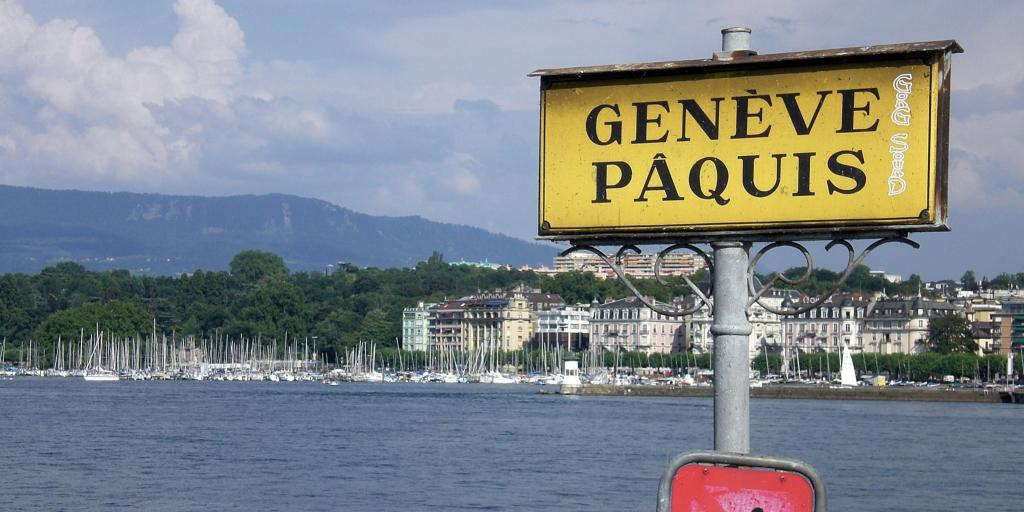 Above: Geneva, the closest city to an airport lounge in the world. Want expensive watches, expensive lingerie or expensive chocolate? You're in luck! Still, the nice thing about Geneva is that you can literally walk from the aeroplane to the EBU's offices.
Switzerland will be the next country to turn off FM, in favour of DAB+ and online. Unsurprisingly, there's a campaign going on to save FM, by 76-year-old Roger Schawinski, who's the CEO of Radio 1, a radio station based in Zürich.
Radio 1 is also on DAB+ in Switzerland: it highlights DAB+ first on its website, and has a considerably larger transmitter area on DAB+ than FM. Commercial stations are off FM in January 2023; public radio goes early in August 2022 – so this is a gift to commercial radio, which stands to gain from public radio switching early; and a gift to Radio 1, saving them money on FM transmission and gaining a larger potential audience.
Yet, to turn off FM is "an incomprehensible decision", and would be a "fatal mistake", says the campaign, which leans on data to make its point.
"Almost a third of Swiss people use FM", the campaign claims; though it's an unsourced statistic. The Swiss government says that actually 27% of all radio listening is to FM, but only 12% of people use it. Is this confusion between 'reach' and 'hours'?
58% of cars in Switzerland don't have DAB+ in them, the campaign argues: a figure the government agrees with; though 99% of all new cars have it so that'll change rapidly, and actual usage in-car is already higher for DAB+ (47%) than it is FM (45%).
And the third (and fourth) argument is that new radios are expensive and why throw perfectly good radios away. A new DAB+ radio for your car "costs more than 1000 francs" (US$1,105, £795), it says – in reality, the Pure Highway DAB car adaptor costs 99 francs ($110, £79), though that doesn't include any fitting.
I'm all for 76 year-olds leading a campaign against change; I'm only 50, and there's plenty of change that I don't like much either in the world right now. But it strikes me that this campaign is rather too late: the Swiss listening public have already, by and large, made their minds up that the future's digital.
---
SCA have announced 10 new DAB+ music stations on LiSTNR – lest the Swiss campaign be a little confusing, this is a bit more confusing: LiSTNR is an online radio streaming app, but they've announced "10 new DAB+ music stations" on it. The stations are DAB+ if you're in Hobart in Tasmania – but on LiSTNR, they're just music stations, delivered to the app. Odd choice of words.
---
Want to supercharge your radio show? Here's a £1 week-long trial of Show Prep – from a world class radio consultant and the best show-prep writer in the UK. Great for UK stations, or for English-language stations everywhere, too. (ad)
---
A significant change in the US, as radio juggernaut iHeartRadio do a deal to add their 850 radio stations on TuneIn. I think that back in the mists of time, Clear Channel pulled all their streams from TuneIn, wanting you to listen to them on their own app instead. Now, iHeartRadio will also be selling advertising for TuneIn, using Triton Digital's ad tech. The right move – make your stations available wherever you can.

You'll still not be able to listen in the UK, though; TuneIn doesn't list overseas radio in the country, after a court case.

BBC Sounds has released their stats for Q2/21. The app was released outside the UK in September last year. Of note:
---
It's absolutely not (that) necessary, but if anyone wants to support my work in any way, you can BuyMeACoffee – become a member to give regularly or just give a one-off coffee if you'd like to support me in some way.
.