The Australian Radio Network is frequently known as "ARN," and today begins a new era in which the company formally adopts that acronym as the enterprise brand. The rebrand signals a recognition of, and commitment to, the broader defining concept of audio.
"ARN have officially turned off the mics on the Australian Radio Network," the company announced in a press release that would be startling if you took it literally. But it's a metaphoric thing, and ARN continues to operate The KIIS Network, Pure Gold Network, The Edge, and partial ownership of other stations. On the digital side, ARN owns the iHeartRadio franchise in Australia — that digital outlet streams 1500 radio stations from Australia, the U.S., and New Zealand. And iHeartRadio houses an immense podcast library.
More than a public-facing facelift, ARN talks about the ARN Audiosphere to describe its holistic array of ventures. "A confident brand evolution will be launched to market, with quality connections and audio at the heart of everything they do," according to the announcement. An illustration of the ARN Audiosphere puts traditional radio into a much larger audio ecosystem: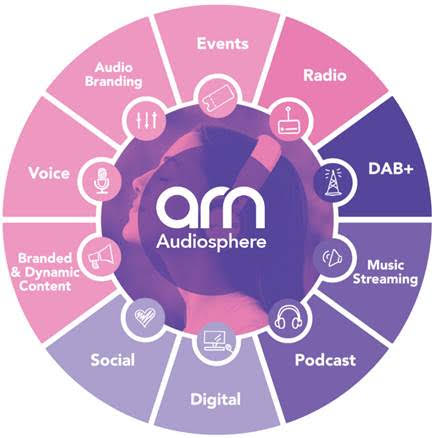 ARN's Chief Strategy & Connections Officer Lauren Joyce said, "The ARN Audiosphere has become a beacon for simple audio solutions in an increasingly complex category. As our business continues to innovate to reinforce the Defining Audio proposition, it makes sense to highlight the fuel behind that proposition through our campaign; Connections that Count. Quality connection is what moves people and it's why listeners and brands choose ARN – our commitment to build meaningful – and measurable – moments in audio should give clients and listeners alike, great confidence in our business."
ARN's CEO Ciaran Davis said, "As the holder of Australia's most established and complete digital audio platform, iHeartRadio, which delivers radio, music and podcasts all in one place, ARN has been Defining Audio for years now. Today's announcement demonstrates how we're continuing to invest and innovate to create the future of audio right here and now; delivering more content for our listeners and deeper insights for our clients. From providing one to one addressability across digital platforms to dynamically created and served advertising across linear radio, we're proud to be providing scaleable, measurable solutions to clients in an era of intense ROI accountability."
ARN maintains offices in Sydney, Melbourne, Brisbane, Adelaide, Perth and Canberra, employing 500 people.
.