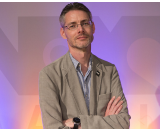 James Cridland, radio futurologist, is a conference speaker, writer and consultant. He runs the media information website media.info and helps organise the yearly Next Radio conference. He also publishes podnews.net, a daily briefing on podcasting and on-demand, and writes a weekly international radio trends newsletter, at james.crid.land.
---
Hello again. I've not written for a few months, I know — The lack of radio conferences and meeting people means it's hard to keep this up on a weekly basis. Forgive me. But I've quite a few things to share now, so…
---
What I'm up to
I'm a writer, consultant, and an amazingly brilliant keynote speaker for your radio conference, setting an innovative and optimistic feel for your event by sharing how radio is changing round the world – in terms of consumption, production and promotion. If I can help you, or your business, please do get in touch, by simply hitting 'reply'.