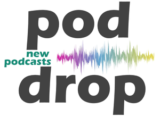 New podcasts of note:

Call of the Wild (WWF) / Nature / Weekly / Website / Apple
Cel Spellman (actor, presenter, and World Wildlife Fund ambassador) discovers how every one of us can make a difference in the fight to save our planet.

Reparations: The Big Payback (iHeartRadio) / Documentary / Weekly / Website / Apple
Part of The Black Effect project, hosted by social justice filmmakers Erika Alexander and Whitney Dow. They use unique storytelling skills and experiences to explore the argument for and against reparations for Black Americans.

Cupid and the Reaper (Gen-Z Media) / Family Fiction / 2-episode drop / Website / Apple
Part of "The Natureverse," Peabody Award-winning Gen-Z Media's expanding universe of family podcasts centered around middle schoolers who inherit the powers of legendary figures like Mother Nature, The Grim Reaper and Cupid. Can these two mismatched heroes overcome their differences and learn to harness the powers of life, death, and love?
.