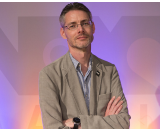 James Cridland, radio futurologist, is a conference speaker, writer and consultant. He runs the media information website media.info and helps organise the yearly Next Radio conference. He also publishes podnews.net, a daily briefing on podcasting and on-demand, and writes a weekly international radio trends newsletter, at james.crid.land.
---
Greetings from Australia, where we're slowly beginning to come out of "lockdown". Very slowly. I hope things have settled down to more of a sense of normality for you, too.
Thank you to Rupert Brun, Barrie Stephenson, Cleanfeed and Richard Hilton for your continued support.