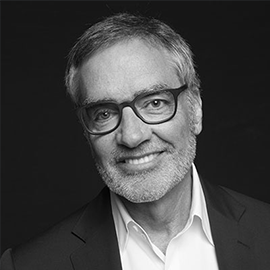 In iHeartMedia's Q1 earnings call, Chairman and CEO Bob Pittman laid out his company's revenue trendlines, a review of strategic decisions, and his views of a hopeful future.
In simple coronavirus strokes: Listening is up, advertising is down, and digital initiatives are providing the best result and will propel future recovery.
As James Cridland notes in today's Podnews, the word "podcast" appeared 57 times in the call. More broadly, the thorough digitization of strategy, even in iHeart's vast broadcasting business ("In essence, we're making our broadcast radio inventory like digital"), was emphasized by Pittman.
"We're working with advertisers on their plans to reenter the market." –Bob Pittman
He detailed two key strategic decision:
The creation of iHeartRadio many years ago, which at the time became the public-facing brand of Clear Channel (the company's former name). The original purpose of iHeartRadio was to provide a consolidated point of streaming for all the radio stations. From that first purpose the app has grown to include streaming radio, a fully on-demand music streaming service, and a podcast listening platform — simultaneously competing with Pandora, Spotify, and Apple.
iHeart's investment in podcasting. The first stab into the market was through iHeartRadio listening, before original show creation began. Then, the acquisition of Stuff Media in September 2018 catapulted iHeartRadio into the top level of podcast publishers, and a succession of high-profile original show launches has built on that status.
Along the way, as RAIN has noted innumerable times, a ubiquity strategy has sought to place iHeartMedia audio wherever the listener might be — Pittman noted that over 250 platforms now carry company programming.
"Today, in the US, podcasting reaches more people in a month than the streaming music collection services like Spotify, and it's grown at a much faster clip." –Bob Pittman
One key metric laid out in the call is that podcast revenue growth is at a three-times multiple of listening growth, indicating vigorous adoption by advertisers, at least in Q1. Pittman bragged about iHeartRadio's top or nearly-top positioning in Podtrac audience measurement.
Digital even takes the lead in the broadcast realm, noted Pittman: "Our massive reach comes from AM/FM devices where we have a two-to-one audience lead over the next largest broadcast radio company. But on digital radio, that lead is magnified. We have a 5x audience lead over the next largest broadcast radio company."
He asserted that the company is "agnostic as to listening platforms," which goes for how listeners choose to listen, and how advertisers choose to advertise.
.