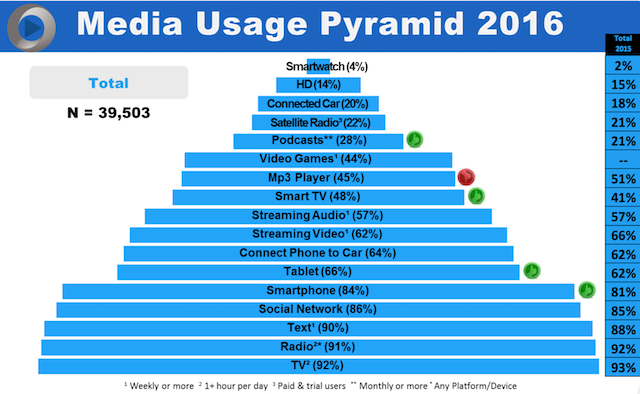 Jacobs Media has released the results of TechSurvey 12, its annual survey of P1 radio listeners in the U.S. and Canada. The expressed preferences in media usage showed little variation this year from the TechSurvey 11, but the latest results did see some changes in attitudes about digital services, car listening, and podcasts.
The new results found that 20% of total radio station usage is digital, up from 17% last year. Another tech-related development was an increase in awareness of the FM radio chips built into smartphones; last year only 24% knew about the topic, and this year it was 35%.
The reasons participants gave for why they enjoyed radio showed a broad spread. Hearing favorite songs was the top reason at 64%, but the particular DJs, hosts, or shows secured 58%. Regular behavior sparked a lot of the radio choice, with "like to work with radio" at 55%, "in the habit" at 51% and "keeps me company" at 47%.
Cars were the site for all or most AM/FM radio listening for half of the survey respondents. Additionally, 93% listen to the radio in the car on an average workday, far and away the most popular choice. (The closest category was personal music at 42%.) Radio held a 66% share of in-car listening on a typical weekday, distantly followed by both personal music and satellite radio at 10% each. Even though 88% of new car buyers said having an AM/FM radio is very important, 66% said the same of a smartphone connector. Almost two-thirds of the respondents (64%) are able to connect a smartphone or iPod to their vehicles.
Despite the solid radio performance, Jacobs' respondents had a lower interest in podcasts. Half of them said they never listen to podcasts or on-demand audio, while 8% listen monthly, 11% do weekly, and just 9% do daily. But there is some growth potential for the format, with 27% saying they listen more than they did last year.