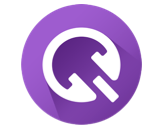 The cadre of apps for listening and playlisting across streaming services has got yet another member. Qus is an app that can pull tunes from YouTube, SoundCloud, Spotify, and Deezer in addition to locally stored tracks. The app also has social features, such as shared listening sessions and options to follow other accounts for access to theis playlists or favorites. It's a free download for iOS, Android, and Amazon devices.
If that seems like a cursory explanation, it is. Qus is just the latest app to join this increasingly crowded field of platform-agnostic music streaming. These programs are a dime a dozen, but none of them have put forth an accompanying business model that seems likely to carry them to longevity. Most of them are free downloads, which mean they're probably running ads either in between songs or in the app's user interface. Neither of those make for a great listener experience. Most platform-agnostic apps have also put forth similar sets of features, such as the social listening, and generally loop in the same set of streaming platforms. And finally, the continued interest from the business side doesn't necessarily seem matched by interest from listeners.
When there are so few differentiators between each of the platform-agnostic services, and when we've already seen so many fledgling enterprises go under, it's hard to get excited about whatever the latest entry is. The concept is a good one, but to endure in the increasingly challenging mobile music business, we'll need to see something truly innovative.