Jacobs Media has released its eighth annual public radio tech survey. The results are compiled from more than 29,000 respondents delivered via 69 public radio stations, with survey dates of May 11 to June 13. (Because the survey audience is provided by radio stations, there is a natural P1-type influence in the results, unlike a survey of the general population. According to Jacobs Media: "Most respondents are members of station email databases. Some responses were gathered via the station's website or social networking pages.)
Among the total respondents, media usage is topped by radio, with 88% listening at least one hour per day. Smartphone usage hit 83%, while 66% said they connect their phones to their cars. Streaming had a solid performance: 58% using video weekly or more and 54% using audio at least weekly. Forty-one percent listened to podcasts monthly or more.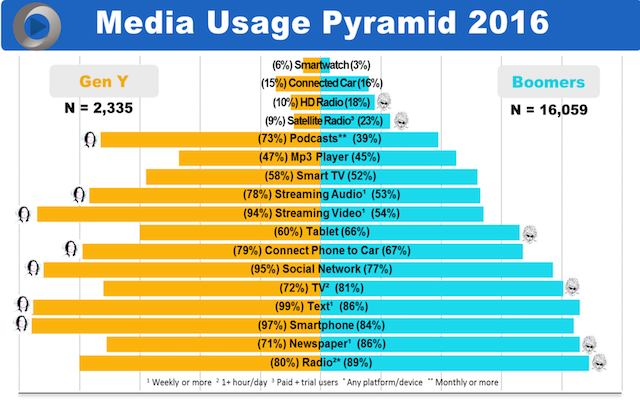 However, age did drastically impact which platforms were the most popular. Among Generation Y, streaming video had 94% use and streaming audio reached 78%. Even podcasts skewed drastically younger, with 73% among Gen Y compared with 39% among Boomers.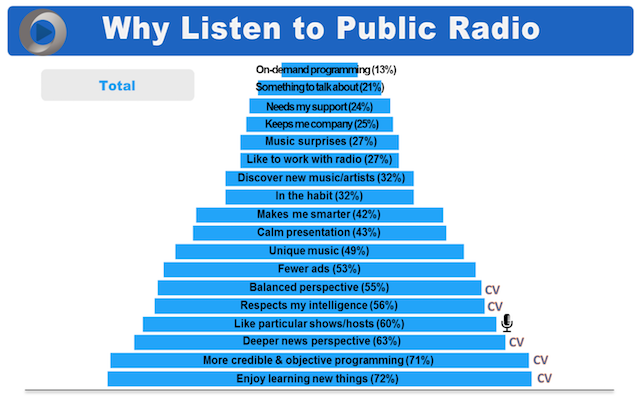 Public radio showed some shifts toward digital transitions. In the eighth edition, 24% of weekly public radio usage is on a digital source, compared with 19% in the previous year's results. Respondents gave the top reasons why they listen to public radio. Enjoyment of learning new things topped the list, followed by the desire for credible and objective programming, a deeper news perspective, and an appreciation of particular shows or hosts. The NPR One app also elicited a generally positive response from the participants, especially millennial listeners.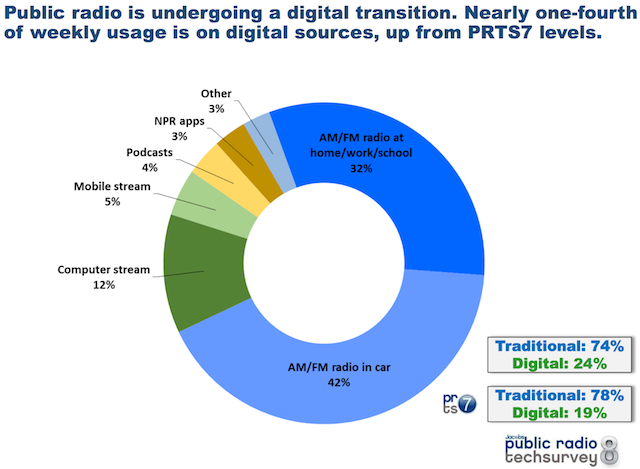 The survey also reflected some shifts with in-car listening. AM/FM radio holds a 68% share of ear on the whole, but that proportion drops to 55% for the owners of connected cars. Satellite radio has 11% for the overall results and 21% for connected car owners.