Triton Digital released its Webcast Metrics Top 20 Ranker for September yesterday, revealing that Internet listening among Triton's top-20 clients was sequentially flat from August. (iTunes Radio, which began operating during September, has not been announced as a Triton client.) Looking at Average Active Sessions (AAS) as the guiding metric, we see a statistical dead heat in cumulative listening to the top-20 list.
Within the ranking, the best nominal month-over-month success belonged to market leader Pandora, which gained nearly 24,000 average active sessions. In percentage terms the monthly top-gainer wasESPN Radio, which grew active sessions 110 percent. The largest August-to-September percentage drop-off is attributed to New York Public Radio (September tracked at 84% of August).
The long-term historical trend of the top five leaders (see chart below) shows Pandora's dramatic climb over the past four years. That trendline also illustrates summertime dips in listening that occurred in 2011, 2012, and 2013.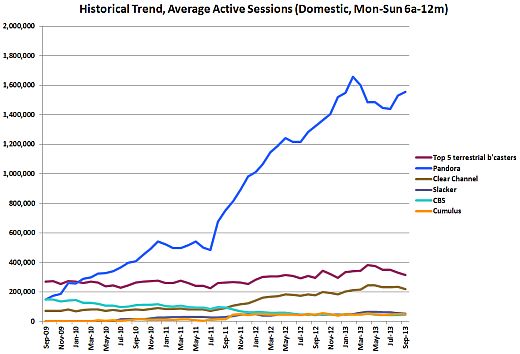 Year-over-year, we see 19% growth in cumulative listening, gauged by Average Active Sessions. Both NPR (133%) and Univision (104%) more than doubled listening from September 2012. Pandora showed an 18-percent improvement from September 2012, by adding 232,000 sessions. Most of the other top-20 participants experienced year-over-year gains, but Cox and New York Public Radio each dropped in listening by single percentage points.
The following chart illustrates cumulative year-over-year listening growth, with the top five leaders called out.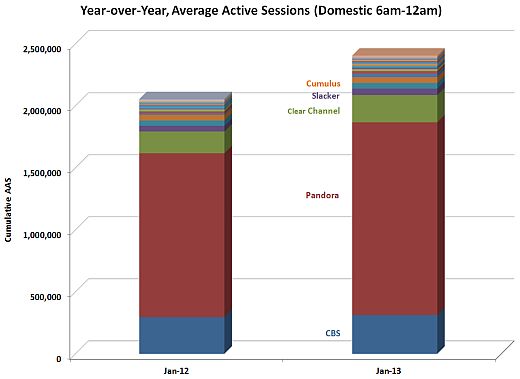 Here is the Top 20 domestic list from Triton Digital, organized by Average Active Sessions, Domestic streams from 6:00am to midnight.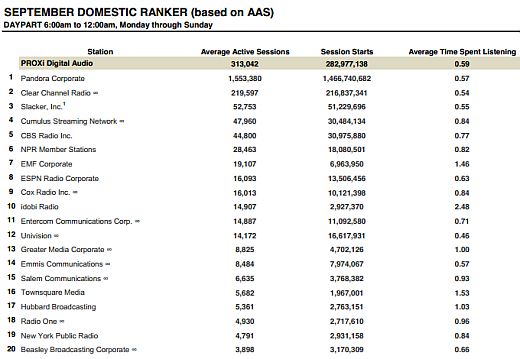 Domestic market leader Pandora does not appear in the international All Streams Ranker. At the top of that cohort is Clear Channel, which dropped six percent month-over-month, with AAS reducing by 14,630 sessions: