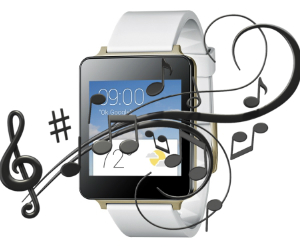 With wearables no longer just the purview of science fiction movies, more and more content companies are revamping their services for access on the new technology. The latest is iHeartRadio, which is now available on Android Wear devices.
According to a press release from parent company iHeartMedia, people who have both an Android Wear smartwatch and a compatible Android smartphone can now access the iHeartRadio app from their wrists. The new features include voice search, favorites, tailored recommendations, and immediate feedback for fine-tuning those suggestions.
More and more tech companies are pushing for watches in particular in the wearables category. While consumer interest in smartwatches is reasonably strong (46% according to an Accenture survey), time will tell whether they become important interfaces for streaming music. Watches might allow for somewhat more convenient control, but people will still be listening on their phones, not the wearables. The open question is whether the added convenience (touching your wrist vs. pulling a phone out of your pocket) is worth the cost of an ancillary device.