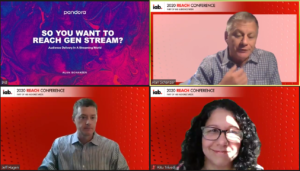 In the second day of the three-day IAB Reach virtual conference, Pandora hosted a panel to discuss the role of digital audio in advertising campaign planning.
The session was hosted by Alan Schanzer, SVP Agency Relations at the streaming company. His guests were Ritu Trivedu (Executive Director, Global Client Lead, Mindshare) and Jeff Hagen (Group Director Connections Planning & Investment, The Coca-Cola Company).
Conversation ranged through streaming music and podcasting, and detailed how these two individuals on the buy side conceived of audio, and worked within it to fashion effective campaigns. The premise was that audience reach is more elusive than ever before. Schanzer noted that 80% of adults use 2nd or 3rd screens while watching TV.
There was an emphasis on mandatory innovation. "There is constant innovation. There's no set time of the year for alphas and betas. We still have upfronts and newfronts, but there is constant innovation. How can you set it and forget it? We are working in collaboration with the clients to be constantly trying something new."
Jeff Hagen also emphasized newness and change. "Audio has been there for a while: 'Alexa, order this.' But it has exploded." At the same time, Hagen said, audio is a category that should be entered with care. "We do think about the right moment instead of just screaming at someone. It gives us more possibilities. Instead of spraying one message, you can get more specific."
"We must be authentic." –Jeff Hagen, The Coca-Cola Company
Ritu Trivedu observed that audio has its own unique qualities. "Audio plays a distinct role when it comes to the consumer journey. We are looking for the lost TV reach in other places. Audio is so immersive and intuitive to us. It opens up new possibilities, either with the creative, or approaching the customer in a different mindset than when streaming video. Sometimes it's an easy fit, because there is no other place to reach some consumers besides audio."
Schanzen asked whether audio is part of an audio strategy. According to Trivedu: "It is part of that holistic communications strategy. Not just thinking about audio specifically. sometimes a campaign might lean into that channel, but usually it's part of a holistic strategy."
"Audio is becoming more and more important," said Jeff Hagen. "The headphones are always in; there is always a way to connect. It's important to not just speak at them. You have to add value. You can't just put a 60second spot in the middle of a pod. How can we show up and be part of it?"
IAB Reach continues tomorrow, with its most audio-specific day of sessions.