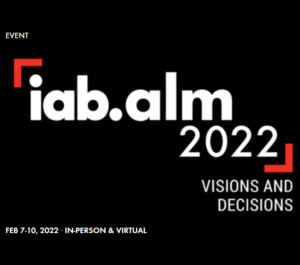 Digital media and marketing trade association IAB (Interactive Advertising Bureau) has announced speakers and agenda for its Annual Leadership Meeting, February 7-10 in a live/virtual hybrid format. For RAIN readers, executives from iHeartMedia, NPM, and Spotify will be of special interest (see below).
The agenda is HERE.
"Now — right now — is the time to drive real progress on issues that have been on our collective 'to-do' list far too long," said David Cohen, CEO, IAB. "At this year's ALM, we are calling on industry leaders across the digital ad ecosystem to gather, roll up our sleeves, and charter a path to the future. Let's move past incremental change and lift this industry to new heights."
This year's theme, "Vision and Decisions," calls upon industry leaders to commit to action, to collaborate on a vision for the future, and make the decisions that are required to bring that vision to life for the entire advertising industry. The first three days of ALM will take place live in-person convening at 225 Liberty Street, New York, as well as be streamed to a virtual audience, and conclude virtually on the final day.
Here is the announced speaker list, with audio-only companies in bold:
John Battelle – Co-Founder and Executive Chair, Recount Media Inc.
Krishan Bhatia – President and Chief Business Officer, NBCUniversal
Conal Byrne – CEO, iHeartMedia Digital Audio Group
Fiona Campbell-Webster – Chief Privacy Officer, MediaMath
Tal Chalozin – Co-Founder and CTO, Innovid
Konrad Feldman – Founder and CEO, Quantcast
Gina Garrubbo – President and CEO, National Public Media
Sally Gilligan – Chief Growth Transformation Officer, Gap Inc.
Charlamagne Tha God – Multi-Media Mogul, iHeartMedia
David Kenny – CEO, Nielsen
John Heilemann – Co-Founder of Recount Media Inc and Executive Editor ofThe Recount
Lauren Hobart – President and CEO, Dick's Sporting Goods
Jim Lanzone – CEO, Yahoo
Bill Livek – CEO and Executive Vice Chairman, Comscore
Iván Markman – Chief Business Officer, Yahoo
Ross McCray – Founder and CEO, VideoAmp
Kirk McDonald – Chief Executive Officer, GroupM North America
Patrick McLean – SVP and Chief Marketing Officer, Walgreen Co.
Dawn Ostroff – Chief Content and Advertising Business Officer, Spotify
Vanessa Pappas – Chief Operating Officer, TikTok
Mike Peralta – VP & General Manager of Marketing Solutions, T-Mobile
Amanda Rassi – Vice President, Head of Marketing, Kroger
Amanda Richman – CEO, North America, Mindshare
Vishal Shah – Vice President, Metaverse, Meta
Neal Stephenson – Bestselling Sci-fi Novelist
Allan Thygesen, President, Americas & Global Partners, Google
Marc Toulemonde – Chief Digital and Marketing Officer, L'Oreal USA