Will Page, Director of Economics at Spotify, published a revealing analysis of how Meghan Trainor's hit song "All About That Bass" became a charted hit, pushed more by streaming than by radio — and even before the track was available to purchase in the U.K. The cross-continental story raises questions about music distribution strategies in an era when online engagement can create hit without traditional levers.
The study, called Anatomy of a Hit, is posted on the Spotify Artists site.
"Meghan Trainor made history," Will Page starts off. According to the Spotify exec, no artist had charted a hit on the U.K. singles charts "solely on the strength of her streaming numbers." The U.K. charts began including streaming in their ranking calculations in July of this year.
The story begins in the U.S., where Trainor's song download was given away as a promo, with a video. It charted on the Billboard Hot 100 within two weeks. In the U.S., the song's popularity curve is illuminating, showing that Shazam and Spotify peaked weeks before radio: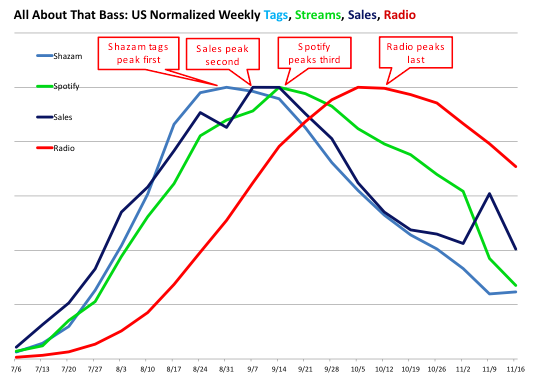 Will Page notes: "Sitting beneath this perfect 'bell curve' is a remarkable 4 million downloads and over 50 million audio streams, the vast majority of which were on Spotify."
Initial distribution was different in the U.K., where the songs was unavailable for purchase. "All About the Bass" entered the U.K. charts on September 28, powered by streaming. Sales peaked shortly after that. Radio lagged, as it had in the U.S., according to Page's study.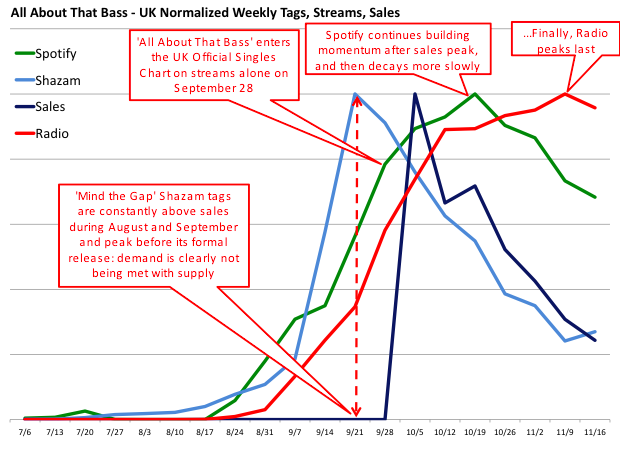 The purpose of Anatomy of a Hit is not just to brag about the hit-making power of streaming. It is a case study of potentially reduced music revenue when engagement is not properly recognized or activated. Will Page zeroes in on a key question about release strategy in the U.K. story:
"Did windowing work? Comparing the Shazam data to the sales data reveals a discrepancy between supply and demand. During the month and a half when the track was windowed from download stores, there was lots of demand, and only limited supply. There were considerably more Shazams prior to the release than there were first week sales […] when Shazams outstrip sales, there's a risk of leaving engagement — and money — on the table."