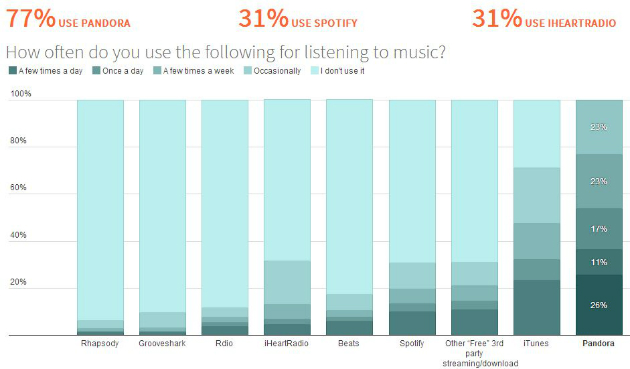 Niche, a research firm founded by Carnegie Mellon University in 2002 with a focus on early-life decision-making, has released an interesting study of media choices among graduating high school students. The research covers many categories of the online experience, including social networks and video platforms.
When surveyed about listening to music, graduating high-schoolers divulged their music-service habits. Pandora was the top choice among respondents, unsurprisingly.
The results bear some similarity to the brand-awareness research in Edison's The Infinite Dial 2014, in which Pandora was recognized by U.S. adults more than any other online listening platform. the Niche study put Pandora use at 77%; The Infinite Dial showed 70% recognition of Pandora.
iHeartRadio and iTunes Radio came in second and third in the Edison study of awareness. The Niche study of usage put iTunes second and iHeart sixth. Rhapsody (ninth) scored lower among high school graduates than among Edison's general population (fourth).
Nearly 50% of high-schoolers who listen to Pandora, do so at least once a day.