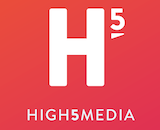 High 5 Media announced that it has acquired a majority interest in Spoke Media, a Dallas-based podcast company focused on branded audio. Spoke Media was founded by award-winning audiobook director Keith Reynolds. The company has created podcasts for Wondery, Midroll Media, Cinestate, The Dallas Morning News, and Busch.
"We made an investment in Spoke Media because Keith and his team are experts in the podcast space, which is the fastest growing area in audio," High 5 President and CEO George Laughlin said. "Spoke Media fits perfectly into our High Five Media family and we have already experienced tremendous synergies between all our companies and it's only week one. Together, we are expanding the boundaries of what audio entertainment can be."
"Spoke is all about finding innovative ways to tell stories in audio," said Reynolds. "We're always looking for new formats and new concepts, and our partnership with High 5 is going to allow us to explore a lot of new ideas in a much bigger way. I could not be more excited."
High 5 Media is the parent company of YEA Networks, which creates and syndicates radio, television, and digital content.