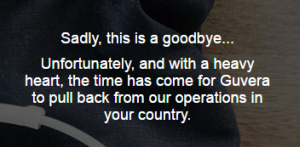 The hits keep coming for Guvera. The company announced that its streaming service will end operation in its home country of Australia next week. Instead, Guvera plans to shift its efforts to emerging markets.
"We have decided that in order to achieve sustainable and long-term goals we will focus all efforts in key emerging countries, such as India and Indonesia," the company said in an email. "Research shows that in these countries, consumers simply can't and won't pay for the streaming of music and we feel we can return the greatest value to shareholders."
Guvera's effort to list on the Australian Securities Exchange was rejected, shutting down its plans for an IPO. With large amounts owed to creditors, CEO Darren Herft stepped down from the top role and will be replaced by fellow co-founder Claes Loberg.