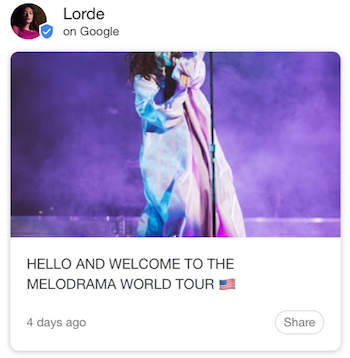 Google is opening up a new option for musicians to curate their presence online. The company offers Posts, where verified people can supply content that appears in the Knowledge Panel when they are the subject of a search query. In effect, this allows artists to directly message their fans or potential fans, a one-sided social conversation added to search results.
"Google and YouTube's goal is to support and empower artists across the board," Lyor Cohen, YouTube's global head of music told Hypebot of the feature. "Giving artists the ability to manage how they show up on Google when fans are searching for information is critical, so I'm really pleased to see this new feature be made available to artists worldwide."
Google is rolling out this option gradually. Search for your name and look for text below the Knowledge Panel asking if you manage the online presence for that act. Once the verification process is complete, you can opt to include images, videos, or GIFs to appear in search results.
Google has made several ventures into social networks, but most floundered and none have had the success of Facebook, Twitter, or Snapchat. Posts has the trappings of a social network, yet is making no effort at this stage to be more than a direct-to-fan messaging option strictly for celebrities. The positioning of Posts in search results is an original move. Given Google's continued dominance in search, it's also a bold one.