Ex-Spotify exec, author (Tarzan Economics) and independent researcher Will Page has released his annual figure for the total global value of music copyrights.
"It's official: music's a $40bn business. Global Value of Music Copyright ramps up 14% to $41.5bn in 2022, with publishers clawing back share." –Will Page, Pivotal Economics
Calling his result "a milestone that our policy makers need to know about," Page asserts that when it comes to lobbying politicians are more likely to respond to bigger numbers than smaller ones.
Sources for this work include the IFPI's Global Music Report (RAIN coverage HERE), CISAC's Global Collections Report (RAIN coverage HERE), and an analysis by the Music and Copyright blog (HERE).
The chart below illustrates Page's calculation of global revenue trending over three years. His work covers both sides of the music copyright schema — mechanical use of recordings (represented by label revenue below), and payments to songwriters.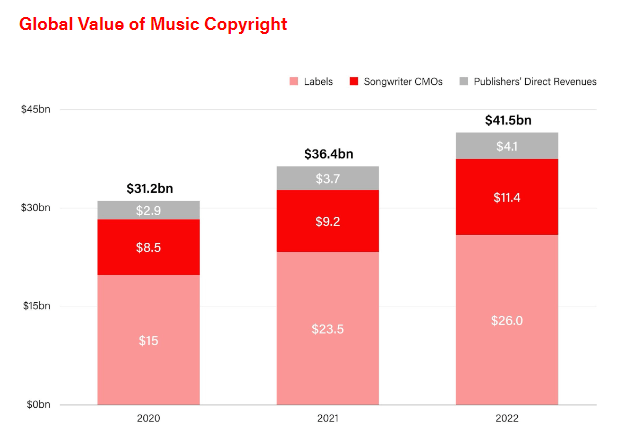 Will Page's latest release has a celebratory tone, not without amazement: "It's nuts to think that this 'c' with a circle around it – copyright – is now worth forty billion. For years music was ridiculed as the sick man of 'media verticals.' Now music copyright can stand tall." He voices the question of whether music investors who acquire music catalogs must evaluate whether this year's result is "a blip or a trend."
A lengthy discourse follows that question. It's an important read. [READ IT]
---