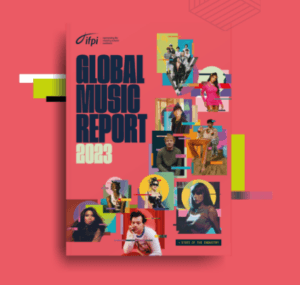 The International Federation of the Phonographic Industry has released its full-year 2022 report. The research is headlined with one key metric: The global recorded music market grew by 9.0% in 2022, driven by growth in paid subscription streaming.
The report comes days after the RIAA (Recording Industry Association of America) divulged its 2022 numbers, likewise emphasizing paid music subscription leading overall growth. (RAIN coverage HERE.) Both organizations track recorded music income exclusively.
The IFPI says that total global music revenue added up to $26.2-billion. This compares with U.S. revenue from recordings at $15.8-billion.
Key global streaming metrics from IFPI:
Subscription streaming income rose 10.3% year-over-year, to $12.7-billion.
Total paid subscription users globally: 589-million.
Total streaming (paid plus ad-supported) grew 11.5% in the year, delivering $1.5-billion.
Total streaming revenue totals 67% of total recorded music revenue. (In the U.S., according to RIAA, that portion of total revenue is 84%.)
China's recorded music revenue grew 28% year-over-year, becoming a top-five market for the first time.
Latin America grew 26%, and has experienced steady growth for "more than 10 years."
---