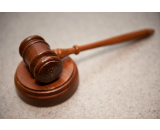 Global Interactive Media has gone on a tear of lawsuits on charges that several broadcasting companies have violated its patents. That intellectual property covers an "apparatus and method to generate and access broadcast information." Global Interactive has been targeting broadcasters and media companies that have audio playing and display information about the track in their website or app interfaces. So far, the plaintiff has already reached settlements with A&E, FX Networks, Shazam, and Tribune Media Company. It is in negotiations with SoundHound and has recently filed against six more businesses: TuneIn, Hubbard Broadcasting, Scripps Interactive, Viggle, TimeWarner Cable, and ReelzChannel. The suits seek a royalty fee plus interest from the defendants.
At this stage, it's possible that the Belize-based Global Interactive Media is looking to make money by pushing litigation over patents of questionable validity. Think back to Personal Audio's lawsuits against podcasters large and small (that company's claims were eventually invalidated). Global Interactive has had three patents on the subject over generating and accessing broadcast data since 1994. With the spread of defendants it has called to court and the range of services they provide, it seems unlikely that all of them are using the same technology, which indicates Global Interactive is holding patents for a concept rather than a specific set of tools or software.
"The present invention relates generally to a method and apparatus to enable a broadcast listener to automatically purchase a music product such as a record album, cassette tape or compact disk without the intervention of an operator after hearing a music piece played on a radio station or music television station," it reads.
If the patent claims are legitimate, it could be one more set of royalty payments that broadcasters, online radio, and other audio companies that display data will have to be mindful of. But the combination of the patent's wide-reaching claims and the sudden wave of suits against companies that have been doing business for many years does raise suspicions. We'll be keeping tabs on how these charges develop and whether they are, in fact, legit claims.