The International Confederation of Societies of Authors and Composers (Confédération Internationale des Sociétés d'Auteurs et Compositeurs = CISAC) has released its Global Collections Report 2023.
The densely informative presentation (freely available HERE) documents worldwide revenue earned by creators across five media types: Music, Audiovisual, Visual Arts, Drama, and Literature. The focus here is music.
CISAC represents the creative side of art — which in music means songwriters and composers — as distinct from the mechanical licensing of recordings. The geographic scope is global, in five major regions: Europe, Canada/USA, Asia-Pacific, Latin America & The Caribbean, and Africa. All together, 116 countries are represented.
For 2023, the organization's headling point is that digital consumption (across all ownership types, not just music) overtook broadcast (TV and radio) for the first time: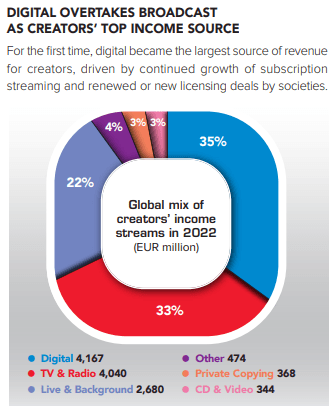 Drilling into music, CISAC show us that, following Covid-era reductions, collected royalties for composer and songwriter leaped upward in 2022 to 10.83-billion Euros. (See below.) It is the first 10B-plus Euro collection in CISAC history.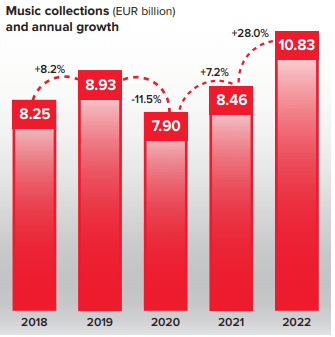 The global royalty collections come mainly from live performances (35%) and background music which encompasses radio and streaming (42%).
While the report does not offer a detailed outlook for 2023, the general projection is optimistic of growth:
"Live and background royalties appear on course for further sharp growth, recovering well beyond pre-pandemic levels for the first time."
But the post-2023 outlook is more cautious:
"However, there are still some concerns that this bubble will burst after 2023 due to consumer spending cuts and constraints on artists' touring budgets."
CISAC offers an outlook for creator income via streaming music. It is all upward-moving, but with slowing growth of streaming subscription buy-ins through 2026: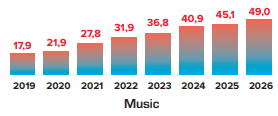 This post scrapes a fraction of information in the first 16 pages of a dense 50-page report. Hungry for more? Go HERE.
---