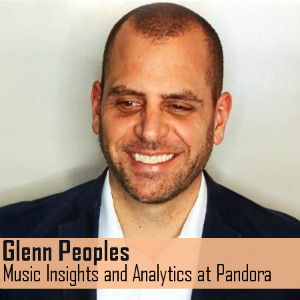 Glenn Peoples is Head of Music Insights and Analytics for Pandora. This guest column was originally published on Medium.
---
Josh Terry, manager of singer-songwriter Mat Kearney, was surprised to learn his client has 1.1 billion spins on Pandora. "We did the 'Whiteboard Sessions' at Pandora," he says, referring to the recorded performances at Pandora's office. "I remember when he went in there they said his stats are great, but I didn't know it was at this level."
How did this Nashville-based musician rack up more spins than some household names? Kearney has a good radio history but just one appearance on the Billboard Hot 100. He's been successful getting songs in commercials and TV shows, but that success often doesn't translate elsewhere. The best explanation is a convergence of factors that can amplify some artists' popularity on Pandora.
Kearney is not exactly an underground artist. He was promoted as a VH1 "You Oughta Know" artist a decade ago. Sales of his four studio albums following his independent debut have averaged 230,000 albums and 1.07 million tracks. He's toured both as a solo artist and has opened for the likes of (later this year) Needtobreathe and John Mayer. Next Big Sound puts him in the "epic," of fifth of five, stage in online social presence. And his four albums have been released on major labels in partnership with Aware Records, the label that developed John Mayer, Train and Five for Fighting.
But he's in a genre that performs exceptionally well at Pandora: the adult contemporary artist, often a solo act, rock but sometimes acoustic, a laid back sound, and at least some success at radio (a lot of success if you're Ed Sheeran). Being associated with these types of artists has helped lead Kearney to popularity at Pandora. When a listener starts, or "seeds," a new station with John Mayer, for example, Pandora will play songs and artists with similar music genomes. So The Fray will lead to OneRepublic, The Fray, Jason Mraz, Train and Kearny, among many other artists. OneRepublic will lead to The Fray, Train, Kearney and others. It's a virtuous cycle that doesn't exist at broadcast or satellite radio.
Kearney's spins have been further amplified by his association with Christian music. His five releases have been released on Christian label Inpop Records for sale at Christian bookstores and promotion at Christian radio. He's a regular on the Christian charts, has topped the Christian Hot AC chart, and won a Dove Award, the Grammys of Christian music.
Crossing over to the Christian world is like having two fan bases. Kearney will be heard on the stations of popular Christian artists Needtobreathe, Lifehouse, Switchfoot, Third Day, Matthew West — and vice versa. Kearney can also be found on the chart-based Christian Contemporary station that currently featured peers Matthew West, Needtobreathe and Lifehouse. Those spins are an addition to the spin he's getting from his relationships to Mayer, Mraz and the others.
Some artists are ready-made for radio and don't sell much music. Other artists make their names touring and don't get much radio play or sell much music. There are other artists with strong sales but don't get on the radio. And then there are some artists whose music, for a variety of reasons, finds its largest audience online. That's Mat Kearney on Pandora.