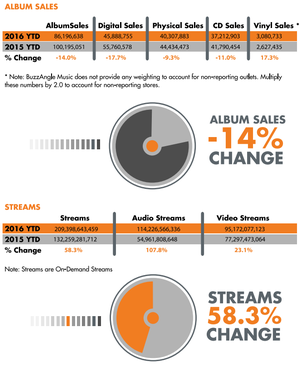 Data measurement and analysis company BuzzAngle is making waves with the release of its United States 2016 Mid-Year Music Report (PDF here), released on Tuesday. The headline bullet points are these:
On-demand audio streaming more than doubled from the same period last year, from 55-billion streams to 114-billion streams.
For the first time, audio streaming exceeded video streaming, which gained 23% in 2016 to 95-billion.
Total streaming, audio and video on-demand, rose 58% from year to year, to 209-billion streams in the first half of 2016.
As usual in reports which compare streaming to song/album sales, the latter falls when the former rises. In the BuzzAngle report, digital song files declined 24%, while album downloads skidded 18%. Songs have farther to fall, outselling albums nine to one, according to the report. CDs dropped 11% year-over-year.
Most of the report drills into album and song rankings. In those metrics, BuzzAngle distinguishes "Sales" from "Projects" — the latter embracing consumption across sales and streaming channels. Adele had the second-biggest album measured in sales, just edged out by Drake. When viewed through the "Project" lens, Beyoncé nudges Adele to third place by virtue of the immense streaming success of Beyoncé's Lemonade.
As with other data organizations which attempt to rank cross-platform success, BuzzAngle uses a stream-to-sale equivalency. An "Album Project" follows this equation: Album Sales + (Song Sales / 10) + (On-Demand Streams / 1,500).