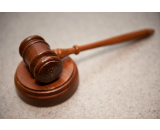 Belize-based Global Interactive Media has filed a patent infringement lawsuit against Sirius XM. The action was filed in a U.S. District Court in Illinois.
Sirius is the latest in a long string of defendants targeted by Global Interactive Media, which owns a patent for "apparatus and method to generate and access broadcast information." Broad intellectual property descriptions like that are often that basis of patent claims, even if they seem untenably general. It is the breath of the underlying technology which enables companies like Global Interactive Media to cast a wide net when seeking reparation and damages.
So far, the plaintiff has already reached settlements with A&E, FX Networks, Shazam, and Tribune Media Company. Additional lawsuits have been filed against TuneIn, Hubbard Broadcasting, Scripps Interactive, TimeWarner Cable, and ReelzChannel. Those have reportedly settled as well — settlement is a common way to escape the lawsuit which has a track record of success (e.g. other settlements) without spending the resources to defend in court.