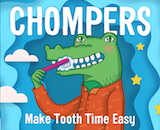 Gimlet Media has released a new show that targets two recent trends in the podcast space: children and voice systems. Chompers is a twice-daily podcast designed to encourage good dental hygiene in kids. The show includes jokes, riddles, stories, and fun facts, and it's intended to entertain children for the entire duration of their tooth-brushing routine. The program targets ages 3 to 7. It is sponsored by Oral B and Crest Kids, both dental health companies, and will have new episodes twice a day for all of March.
Accessing Chompers is also a sign of where podcasting and audio content may be going. The show has been designed specifically for listening on devices enabled with the Amazon Alexa voice platform. The voice command, "Alexa, start Chompers" will begin an episode. The show is also available from common sources such as Apple Podcasts, Breaker, RSS, Overcast, Spotify, Stitcher, and TuneIn.
"The way I think about Gimlet is that we're trying to build a new kind of modern media company where everything begins in audio," Matt Lieber, co-founder and president of Gimlet Media, told The Wall Street Journal. "This is our first go at it, but we're making real investments."
This is Gimlet's first foray into a voice-first program, but we can expect other podcast and audio companies to follow the trend. Several research projects and studies point to widespread adoption of smart speakers, and the platforms are a natural match to audio-first programming.