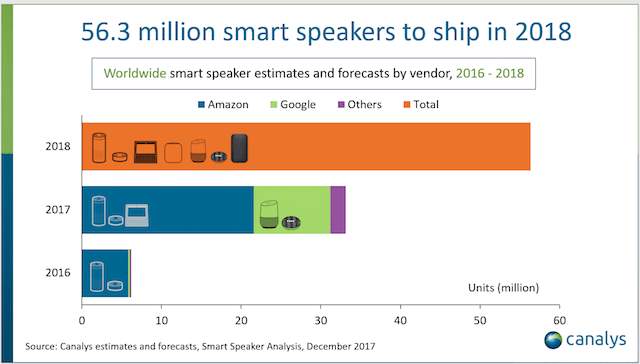 Smart speakers are projected to reach 56.3 million global shipments this year, according to research by British firm Canalys. Amazon Echo and Google Home devices are expected to stay at the top of the field, but more products will likely enter the competition. Canalys Research Analyst Lucio Chen shared a bullish outlook:
Smart speaker uptake has grown faster than any other consumer technology we've recently encountered, such as AR, VR or even wearables. While 2017 has been a banner year for smart speakers in terms of hardware sales, especially for Google and Amazon, smart speakers in 2018 will move beyond hardware, with strategic attempts to monetize the growing installed base in the US and beyond. The possibilities to do this are endless, be it discreet advertising, content subscription bundles, premium services or enterprise solutions. The technology is still in transition, and increased investments from multiple players of the ecosystem will fuel growth.
The United States is expected to be the top market with an estimated 38.4 million units in 2018 and will likely remain at the top through 2020. China is second at 4.4 million units projected for this year, and some of the country's tech giants are beginning to explore the space. "Traditional hardware vendors have been cautious at the beginning, but with deep-pocketed Alibaba ramping up investment in the category, and Xiaomi launching lower priced skews of its XiaoAI smart speaker, the market will be ignited in no time," Chen said.