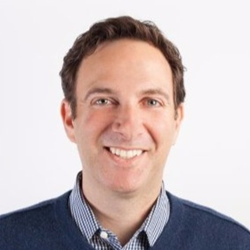 Mike Reznick's Reznick Media is leveraging CES to announce that he is partnering with Frequency, a "dynamic audio" provider to audio advertisers, part of audio ad agency F Sharp.
Mike Reznick was formerly EVP, Advertising Sales at Triton Digital. In October 2016 Triton shed most of its advertising staff, which was taken over by then-named AudioHQ, now DAX U.S. Reznick was President of Ad Sales there until last November.
Frequency's best-known product, Dynamic Audio, gives advertisers the ability to dynamically change audio creative based on first-party and third-party data, such as a user's location, time of day, demographic information, audio preferences, and environmental conditions such as weather and road traffic. This clever technology enables advertisers to change their creative to match the recipient's local situation and established preferences. Ideally, this tool brings audio closer to the programmatic ideal of "smart impressions" everywhere, each listener receiving an ad which somehow relates to that person's personal situation — depending on the accuracy and granularity of the underlying data.
"Reznick brings a deep history of digital advertising, specifically in the programmatic and audio advertising space," said Pete Jimison, founder of Frequency. "We've worked together for some time now, and we share a similar vision around the future of audio. By working with Reznick, we see an opportunity to bring Frequency's unique technology to a wider audience. We share a tech-first approach, which really should be the main focus for the entire audio industry in order to drive innovation for the benefit of advertisers."