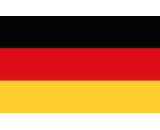 Germany's music trade group BVMI has posted its results from 2017. The country saw recorded music revenue of €1.59 billion (around $1.94 billion) during the year, down just 0.3% from the prior year. Audio streaming continues to expand its presence in Germany, growing 42.8% in 2017 to secure a share of 34.6%. That helped boost the digital business to a 46.6% share in the overall German music industry. Download revenue declined 19.3% for the period.
Physical sales declined 14.3% for the year. However, that segment remains the majority share of Germany's market with a 53.4% share. CDs along account for 45.4% market share. Vinyl showed some growth, but remains a niche market with just 4.6% of the country's total revenue.
"We continue to see a strong pull in music streaming, and this shows that the diversification strategy of the industry is taking effect," BVMI CEO Dr. Ing. Florian said. Florian also used the announcement as an opportunity to critique YouTube, arguing that although the platform is responsible for nearly half of the country's music streaming, it only provides a 1.9% share of total sales.