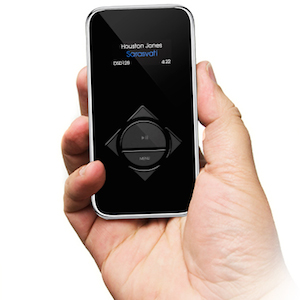 Hot on the heels of Neil Young's ascent to CEO of Pono Music, he's already facing a new rival in the top-end music player market. LH Labs, part of Light Harmonics, completed a crowdfunding campaign to fund creation of the Geek Wave. Although Geek Wave doesn't have the star power of Pono Music behind it, the LH Labs team still received huge financial support from audiophiles: this "high-performance portable music player" exceeded its initial Indiegogo goal of $38,000 and closed out this weekend with $1,323,073 in pledges.
While Geek Wave aims to support a range of music files, the focus is clearly on the heavy-duty, lossless formats. It will play everything from MP3s to DSD128 files, thanks to the work of ten processor cores. It also has some original features such as a smartphone control interface, drag-and-drop music management, and an interchangeable battery, but the real appeal is that top-line sound quality support.
The success of these hi-fi music projects seems counterintuitive considering that many listeners are accustomed to lossy digital files, or only listen to music on earbuds while on the train, which is hardly the ideal scenario for experiencing the best quality audio. In fact, our poll of RAIN readers showed a decidedly middle-of-the-road response to the renewed interest in sound quality.
It's possible that the message of these niche products is appealing to music fans of all age as a hypothetical idea, but won't have much longevity once the physical products hit the market. The real test of whether listeners want to use hi-fi players for digital will come once Geek Wave, Pono, and their competitors appear in the wild and have to compete directly with streaming services and smartphones.