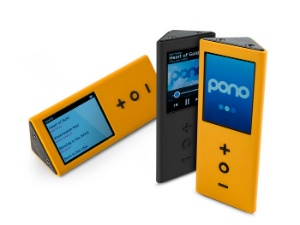 On Friday, the team behind new music player Pono announced that rock legend Neil Young will take on the role of CEO. A Kickstarter update for the project said that founder Young will replace John Hamm at the helm of Pono Music, with Rick Cohen taking on the role of COO.
"Pono Music has been a mission of mine for many, many years, and I'm more passionate than ever about the prospects for its success," Young said in the update.
Pono is a portable music player that aims to improve the quality of digital music available to the average listener. Or in the words of the Kickstarter campaign description, "to revive the magic that has been squeezed out of digital music." The means to this end is to provide high-resolution music files rather than smaller, compressed recordings, such as mp3s. That seems like an achievable goal, thanks to the team's music industry cred and connections. The more than $6 million raised by Kickstarter backers indicates that audiophiles want to see that happen as much as Young does.
It's unclear how or if the change in leadership will impact Pono. Where Young has the creative side of the deal covered, Hamm had an impressive track record in tech. He will remain with Pono as an investor.
The new music service is reportedly scheduled to launch by the end of this calendar year, a timeline bump from the original April goal. Omnifone, a UK-based cloud music provider, announced today that its MusicStation platform will power the hi-fi player. The announcement said that the service will launch before the end of 2014 in the U.S., the UK, and Canada. Pono has not yet confirmed that news on its Kickstarter page.