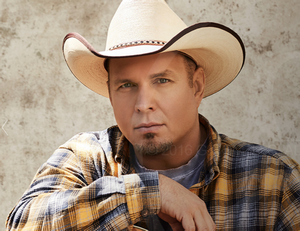 Amazon may be the newest player elbowing into the subscription streaming music business, but it's closing the year with a blockbuster announcement: Garth Brooks is bringing his entire catalog exclusively to the platform. The country music star, a long-time digital hold-out, will put 16 albums onto Amazon Music beginning Dec. 24 at midnight Eastern time. This includes streaming via Amazon Music Unlimited for subscribers to that service. Non-subscribers can still buy the albums as physical discs or digital downloads.
Brooks announced a preliminary deal with Amazon Music in October, when his Ultimate Hits and Double Live became available to stream. At that time, it was announced that his Gunslinger album and Christmas Together collaboration with Trisha Yearwood would also be available by the year's end.
The addition of Brooks' full collection is yet another sign of building strength in the trend of exclusive releases. Amazon Music Unlimited is a newer project, and getting the only streaming access to his music this fast is still quite a coup for the fledgling platform. Spotify is the biggest player to eschew exclusives, but both Tidal and Apple Music have been making strides to stake out territory.