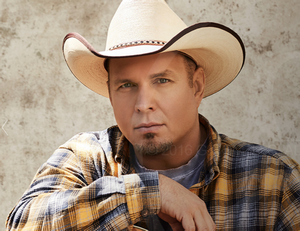 Garth Brooks is a long-time holdout against streaming, but it seems that the country icon has changed his mind. Brooks has made parts of his catalog exclusively available on the new Amazon Music Unlimited service. Subscribers at all three tiers (Echo owners, Prime members, and non-Prime members) will be able to listen to the first single from his upcoming album. The currently available albums are his Ultimate Hits set and Double Live. The new album, Gunslinger, will be streamed when it releases later this year. Christmas Together, Brooks' holiday collaboration with Trisha Yearwood, will also go up by the end of 2016. Amazon is also sponsoring Brooks' upcoming 2017 tour.
"It is a joy to work with a company that is all about the customer when it comes to service, and all about the music and its creators when it comes to the music," Brooks said. "I applaud Amazon on their commitment to quality and thank them for this opportunity."
High praise indeed for the fledgling streaming outlet. Exclusive releases have been the latest trend for many subscription services as a way to both grow their listener bases and build relationships with important performers. Amazon has been quick in adjusting to that new aspect of the streaming industry competition.