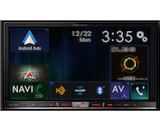 Android Auto is making its first appearance in new car models this week, after being available as an aftermarket option in Pioneer units since March. The first in-car factory system will debut in the 2015 Hyundai Sonata.
Android Auto allows drivers to connect an Android smartphone by USB cable, and run apps on the vehicle's dashboard. Google's technology replaces some parts of the factory dashboard, and implements safety controls that make it safe(r) to select music, and other app functions, while driving.
Android Auto competes directly with Apple's CarPlay system, which furnishes similar dashboard control of the smartphone for iOS users. many car campanies are involved in both initiatives, and it is easy to imagine a choice of Android- or iOS-controlled dashboard in many car lots within a few years.While music and entertainment are not the only functions driving the different flavors of digital dashboards (navigation apps are high on the demand list, too), connected cars generally pose a challenge to AM/FM's historic dominance of in-car entertainment.