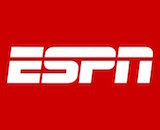 ESPN Podcasts announced audience statistics for its shows in October. For the third consecutive month, the company's podcasts reached a new record audience. ESPN Podcasts had a unique verified audience of 8.1 million in the month, besting the 7.5 million in reported in September. Downloads reached 46.1 million, another new record that rose 6% from October 2018.
Fantasy Focus Football was the main growth driver for the month, with a 25% increase and an audience of 1.6 million.
"ESPN's podcast business has certainly been building great momentum which we expect to continue with the recent launch of ESPN Daily," said Tom Ricks, ESPN vice president of digital strategy and marketing within ESPN Audio. "We remain very bullish on the podcast space and that ESPN is best suited to capitalize on the format in the sports genre."
ESPN is a regular fixture in the Podtrac publisher ranking. It placed seventh in the October results.